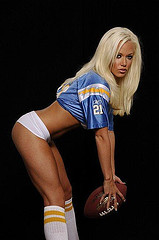 So, where was I? Oh yeah, "Who Dey!" Who Dey woulda thought the Steelers would place a hit on Carson Palmer and then go on a roadie all the way to the Super Bowl? Not me. But they did. Fuckers. Now Von Oelhoffen is with the hapless New York Jets (karma, baby), Randel El left for in DC (karma), their first-round draft pick is in some serious legal trouble (karma, karma), Hines Ward may miss their opener with a bad hamstring (karma, karma, karma) and Roethlisberger not only has a reconstructed face but, THIS JUST IN, he may miss the opener due to an emergency appendectomy (karma, karma, karma, karma, karma chamelion!). Meanwhile, Carson Palmer is unbelievably back and ready to go. I'm not big on curses but I've spoken to the football Gods and they were none too happy about the way last season ended. Don't be surprised to see one of the Steeler linemen go down with a freakish lawnmower injury, or a cornerback miss some action due to a spiderbite, a couple cases of vertigo, or the loss of a kicker due to lepresy. I fully expect Coach Cowher to be sporting the Craig T. Nelson-in-
Poltergeist
look on his face before Week 7. Yep, some crazy shit is gonna be going down in Steeltown this fall.
Speaking of crzay shit, VH1 thankfully has decided to bring back Flava of Love for another season. The announcement, along with the NFL network's announcement of two new series
Making the Squad: Chargers Cheerleaders
and
Making the Squad: Buccaneers Cheerleaders
, instantly re-shuffled my top-five favorite tv shows. The cheerleader shows have not been a letdown and Flava 2 immediately went where no television show has ever gone before. In case you haven't been able to check it out, well,...check it out-
And speaking of dropping turds, the Eagles release of Terrel Owens & his subsequent signing with the Cowboys marked the biggest player move of the offseason. Also on the move were Edgerrin James to Arizona, Steve McNair to Baltimore, Javon Walker to Denver, Sam Adams to Cincinnati, Willie McGinest to Cleveland, Jon Kitna to Detroit, Daunte Culpepper to Miami, Drew Brees to New Orleans, Keyshawn to Carolina, Ashley Lelie to Atlanta, Trent Dilfer to San Fran, and the aforementioned Antwan Randle El to DC. And let's not forget Al Michaels and John Madden to NBC and Sunday nights, Theisman and Kornheiser to MNF, MNF to ESPN, and Mama Squintz from her single-wide trailer to a double-wide which has an extra room perfect for displaying her Elvis memorabilia, including her blue suede sex swing with the words "The King of Swings" spelled-out in rhinestones on the back.
Yep, a lot sure has happened in the last eight months. So to make sure I had my finger on the pulse of the NFL, I did what I always do - I went into the chat rooms to gleen some knowledge and make a few new friends. Here's a little of what went down… right after another short video for your viewing pleasure....
from www.patriotsplanet.net
posted by: Rogueislander
Help! I just moved to denver and not a flying elvis is to be seen! Is there a pats fan group that gets together at a bar to watch the games?
reply by ChatBastard:
Rogueislander, I am a HUGE Patriots fan living in Denver and there's a group of us who get together for each game. We meet two hours before kickoff over at the Proud Peacock on McGee St. We're hardcore fans who drink heavily & get a little rowdy. Sometimes we get a little too rowdy and a fight ensues. Or sometimes, if the Pats are doing real well, we'll give some aggressive high-fives, chest bumps, and an occassional ass-fingering which often turns into a little homosexual anal sex orgy. Anyways, we always love to add more hardcore fans to the group. If you live on the north side of town, let me know & maybe we could carpool together. Hope to hear from you soon. Go Pats!
from www.texanstalk.com
posted by: Texastailback
i was at hat world today, they don't have 1 thing houston texans related. i also went to all american sports fan, they got 1 texans thing. a broken david carr bobble head with a messed up spring and a deeply chipped leg.
reply by ChatBastard:
I've got something Houston Texans related. It's sitting in my toilet right now. It looks and smells just like the Texans offensive line.
Just kidding. Hey, don't worry, at least you guys have Reggie Bush………..what?...........they didn't pick him?.........Oh, sorry dude. Hey, you wanna buy a broken David Carr bobblehead?
from www.clanram.com
posted by: AvengerRam
The Rams site indicates that cameras are allowed at the Edwards Jones Dome, but not if they take video. My digital has a function that enables it to take short (a few seconds) mpegs. Does anyone have any experience with the way they check for this and whether they would likely prevent me from bringing in my camera?
reply by ChatBastard:
From my experience, what they usually do is simply take a quick look at the camera and then perform a mildly enjoyable cavity search on you with one of those big #1 foam fingers.
Typically takes no more than ten minutes and if they find nothing, they let you keep the foam finger. Totally sweet.
from www.dawgbones.com
posted by: Kardiac_kid
Do you guys know any good sites or phone numbers where I could get some tickets? I was broke when they went on sale. I am looking for tickets to the ratbirds or browncos. Any help would be awesome.
reply by ChatBastard:
1-800-SAFE-AUTO. Go ahead, pick up the phone, the call is free. If that one doesn't work, try 1-900-BROWNEYE. That call is not free.
from www.glorifythepast.com
posted by: Desertboltfan
Seahawks in this week so how about so seafood for the occasion?
I'm gonna bring a big pot of seafood cowder that is gonna rock the house, also tabasco sauce, oyster crackers and a little pre-game snack that you'll just have to be there for.
Craig (we missed him the first week) is bringing a couple pounds of shrimp cocktail with him.
So how about some of Victors great seviche.
Someone can bring some smoked salmon, crab dip is cool, lobster , grill some fish of some kind, a salad would be killer. Corn on the Cob. You decide and post what you will bring.
I'll have my grill, Greg can you bring yours? May be someone else to be safe because that pot is big and will take up mine alone.
That's it folks, we had a monster turnout the first game and I say lets keep it going bigger and better.
reply by ChatBastard:
First of all, your seafood crowder always rocks the house. If it's okay, I'll bring my world famous sea bass tacos covered in spunk sauce. Also, is Victor's wife coming? She loves my spunk sauce.
from www.cowboysguide.com
posted by: Veteran
I have two fantasy drafts tomorrow. Bottom line it for me.......Would you take TO as your #1 WR considering his hammy injury?
reply by ChatBastard:
I would take TO considering his hammy injury. I would not take TO considering that he's a colossal asshole.
from www.gotitans.com
posted by: Gunny
not that i am a big drinker....or a drinker at all...but i was under the impression when your drunk it gets to a point where you have no control/recollection of what happened and what you do.
reply by: ChatBastard:
You're from Tennessee, your name is Gunny, but you're not a drinker? Next thing you're gonna tell me is that you're also not an inbreeder. Come on Gunny, what did you do that you're claiming "not to remember"? Fuck your sister? Shoot your grandpa? Shoot your grandpa while you were fucking your sister? Go eat a plate of vittles, whittle something, and think about fessin' up to whatever you've done. Remember, God's watching you.
from www.jagszone.com
posted by: JoeV
Will Fred Taylor make a statement this season?
reply by ChatBastard:
Yes, he will. And that statement will be
"
I'm old, I'm tired, …but I'm rich, bitch!"
from www.jetsinsider.net
posted by: RMJK
Besides nobody getting injured, what are looking to see from the Jets tonight against the Giants?
reply by ChatBastard:
I'm looking for a group orgy. A 106-man group orgy right there on the field. Just a huge pile of sweaty men humping each other so hard that their helmets pop off. Want to come over & watch with me?
from www.giantszone.com
posted by: Cheese cake
Right after the opening kickoff some guy in section 101 or 102 got smacked in the head with a plastic full beer bottle from someone up top, and blood started flowing down his face, on the side, not alot...It was probablly just a really small cut, but anywhere on the head bleeds alot.....anyway, sucks to be him because he was supposed to be sitting about 5 seats to the left anyway.....But still a shame someone would do that...And I DID see a few seagirls fans at the stadium....not saying it was them, but that was wierd...
reply by ChatBastard:
Cheese cake, I am the person who was struck with the bottle. It was an unprovoked attack which has left me with a small scar on my forehead as well as permanent short-term memory loss.
Cheese cake, I am the person who was struck with the bottle. It was an unprovoked attack which has left me with a small scar on my forehead as well as permanent short-term memory loss.
Cheese cake, I am the person who was struck with the bottle. It was an unprovoked attack which has left me with a small scar on my forehead as well as permanent short-term memory loss.
Cheese cake, I am the person who was struck with the bottle. It was an unprovoked attack which has left me with a small scar on my forehead as well as permanent short-term memory loss.
from www.panthershuddle.com
posted by: Twylyght
I believe that DeAngelo Williams has the strength of 6 men twice his size.
reply by ChatBastard:
And I believe that you, Twylyght, have a huge man-crush on him.
from www.extremeravens.com
posted by: Baltimoreblitz52
Me and my brother are going to Denver this year to see the Ravens play the Broncos on MNF and we wanted to try and get some pics and Auto's. Does anyone know which hotel the ravens stay in. Is it always the same Hotel chain or does it change from city to city. I was thinking the NFL has a contract with someone therefor it would be the same for all the teams. Any info would be great. Thanks in advance for the help!!!
reply by ChatBastard:
I believe that most of the Ravens typically stay at the nearest state penitentiary. It looks like the closest one to Denver is located in Canon City, Colorado. You can do a mapquest search for directions. Good luck!
from
posted by: Lose money
Yo I know I'm not the only cards fan in Vegas. How many of us are there?
reply by ChatBastard:
Counting you and the homeless guy I see every night sleeping in front of
Circus Circus
wearing an old Jake Plummer jersey…... 2.
from www.thehogs.net
posted by: DaveButzGuy
I know they had a great run with all white jersey look. I think it's like 9 games and counting since they have done something different. Last five regular season games, 2 playoff tilts, 2 pre season. I know on the road eventually they will have to use the burgandy jersey. I hope they do the dark pants with dark jersey at some point or even bring back the 2002 70th Ann. spear look again. Have Skins used a third jersey since the 2002 season? Also well on the jersey topic, do the Redskins sell there game used jerseys at there team stores or anywhere in the DC area. I'd love to get a game used jersey someday from even a common player......
reply by: ChatBastard:
Hey Joan Rivers, who gives a flying Native American what jersey/pant combinations they're wearing? Please take your evening gown, your botox needles, and your fashionista friends and leave this message board immediately.
from www.dabearz.com
posted by: DaBears54
For Grossman, glass is three-quarters full
reply by ChatBastard:
Yes, but unfortunately that glass is three-quarters full of
warm retarded monkey urine.
from www.the captainsdeck.net
posted by: LetsGoBucs
Just got the latest Maxim magazine yesterday and there is a NFL preview section along with some pics/quick interviews with some of the leagues cheerleaders. There were 3 (that i saw just skimming) Bucs cheerleaders in there --- more than any other team. I saw Rachel, but don't remember who the other two were. Definately worth a look though.
reply by ChatBastard:
LetsGoBucs, Hi, this is Rachel. I'm glad you enjoyed my pics. If you'd like to see the rest of my "spread", meet me at Hooligan's on 5th street tomorrow night. Meet me in back of the building. I'll be hiding behind a green dumpster & wearing a disguise that will make me initially appear to be a large black man with a facial tattoo. And do me a favor, sweetie, bring your wallet with you…..so, uh, so I can see your ID & know that it's you. Can't wait to see you, Rachel.
from www.concretefield.com
posted by: Ice grillin you
1. is the next starting free saftey for the philadelphia eagles currently on the roster?

2. will ticket prices be raised in 07 if the eagles miss the playoffs this year?

3. how many games will the eagles win in the division this year?

4. favorite eagle jerseys of all-time?

5. bigger concern this year: linebackers or wide receivers?

6. over under trent cole sacks this year.....8

7. eagles miss playoffs this year....do you start to question andy reids job status?
reply by: ChatBastard
1) No. He's currently working as a sandwich artist at Subway on the south side.
2) No. They will be lowered by $5 across the board and the team will be moved to Bethlehem, PA where they will operate as the Bethlehem Baby Jesuses.
3) One. But they will win twice that many outside of the division.
4) Mama McNabb's. The green one with TO's spunk stains on the collar.
5) Neither. The biggest concern is whether Andy Reid will accidentally eat Koy Detmer.
6) Who is Trent Cole and why would a man have more than one sack? Does he have extra testicles, or something?
7) No, but I will continue to question his eating habits.
from www.raidernation.com
posted by: Rich 120
Biblical warning for our opponents this year?
Read this at church yesterday...
May an outcry be heard from their houses, when You suddenly bring raiders upon them. Jer 18:22i thought that was pretty cool!!
reply by ChatBastard:
Everyone knows that true Raider fans don't go to church and they certainly can't read. We spend our Sabbath sacrificing goats, invoking the spirits of the evil-dead, and dressing up like Darth Vader. You, sir, are an imposter.
from www.coltsfreaks.com
posted by: Swing4dafences
Just wanted to let you guys know, we just recently found out my wife (Peyton4President) is pregnant.
In April of 2007, there will be a new little Swing runnin' around, so you guys can start shopping for Colts baby clothes for me any time now.
reply by ChatBastard:
Swing, I'm already on it. I've purchased a t-shirt for the little fella/lady. It's Colts blue with the horseshoe on the front and
"<
em>My mom and dad are losers who spend all their time chatting on Colts message boards. Please kidnap me and give me a good home"
on the back.
Hope all goes well with the pregnancy. Congrats & keep us updated.
from www.billsdaily.com
posted by: Ramius
I have heard on the radio when i was back in buffalo last week that the bills will be wearing their throwback unis at home for the home opener and for the SD game. take it for what its worth.
reply by ChatBastard:
I'm marking my calendar. What GREAT NEWS! Throwback unis, YESSS! I can hardly fucking wait to see JP Losman tossing interceptions while wearing that sweet-ass white helmet with the asleep-on-its-feet bison on the side.
Kick ass!
Thanks for the scoop Ramius. You have truly made my day.
from www.seahawkshuddle.com
posted by: Hawkees
So here we are three weeks from the season opener. How many will the Seahawks win and how many will they lose. Here is what I think how about you?
The seahawks will win 13 games this year.
Wins against: Detriot , Arizona , New York , St. Louis , Minnesota , Oakland , St Louis, San Fransisco , Green Bay , Arizona , San Fransisco , San Diego , Tampa Bay.....End of year game could be a loss if they pull the starters to keep them healthy.
Losses at: Chicago, Kansas City , Denver
Last year I said 12 wins...........
What do you all think?
reply by: ChatBastard:
I think your mother was a hamster and your father smelt of elderberries.
from www.miamidolphins.co.uk
posted by: Asphyx
Saban is kind of like Semtex (Plastic Explosives) you can jump up and down on it shoot at it and do just about anything you want to it and it stays calm...
But just the right spark and KABOOM!
reply by ChatBastard:
Semtex sounds a lot like like Mama Squintz.
from www.broncosfreak.com
posted by: CanuckBroncoFan
I was able to pick up this jersey on the BAY. I may be heading to a game in December if all goes well with my house....I was wondering if anyone could get this signed for me at training camp??? I'll pay for shipping both ways and also add money for your time...I'd like to frame it. If anyone can I'd really really really appreciate it!!!!!!
reply by ChatBastard:
I'd be happy to help out. Just send the jersey, along with $20, to this address:
Rikers Federal Penitentiary
Cell Block D
Attn: James "The Reaper" WashingtonGO BRONCOS!
from www.packerchatters.com
posted by: Elginpackerfan
Punter Jon Ryan probably shouldn't get too comfortable. The Packers were working out a left-footed punter on the Ray Nitschke practice field early Friday afternoon with Ted Thompson observing the workout. Does any one have inside info as to who he is?
The punter's name has not yet been released, but his kicks ranged from 33 to 56 yards. He also was seen practicing holding the place kicks.
reply by ChatBastard:
His name is Amiga Montoya. You killed his father. Prepare to die.
from www.mcmillenandwife.com
posted by: Steel g
it seems since my dummy self needs to learn to drive again. the driving classes are weekdays so im going to have to give up my first 7 weekends starting 9/11. can you let me know how that nfl channel works? does it replay every steelers game??? or can anyone of you record a few games, on the vhs for a worthless moron???? flip when will it ever flippin end!!!!
reply by: ChatBastard:
Let me get this straight…….you don't know how to drive or how to work a VCR? Yep, you're a Steeler fan.
and finally....
from www.mcmillenandwife.com
posted by: McSteelerfan
I just want to say that I LOVE this message board

I love the reilgious discussions.

I love the political discussions.

I love the personal interraction with my Steeler Family.

I love getting to know new people here, and knowing I can count on the friendships I've built with the long-timers.

I love hearing about your problems and your successes, and sharing mine with you.

I love talking football with the greatest fans in the world.

I love my friends who support other teams, but still come here to talk friendly smack.

I love worrying about each other and rejoicing when things are alright again.

I don't love when people talk about how terrible this board is, but still insist on coming here and complaining.

There are lots of Steelers' Boards out there, but few that offer so much variety of discussion to so many.

I love this board.
THANKS, TIM and COMPANY for all you do to keep it going.

I Love This Board!
reply by ChatBastard:
I love your wife. I love your wife's hooters. I love squeezing your wife's hooters. I love spending time sipping hot cocoa in front of a roaring fireplace, swiping some whipped cream off the top and smearing it on your wife's hooters. I like doing the "motorboat" between your wife's hooters when she's wearing that lacey pink nightgown, you know, the one with the spunk stain on the back. I love pouring honey on your wife's hooters and watching my dog lick it off. I don't love it when you come home early from work and I have to run out the back door. There are lots of Steeler fans wives out there but few that offer so much variety and flexibility as yours. I love your wife.
and now, the WEEK ONE MATCHUPS....
(remember, picks are due to me by
8pm Wednesday!
Thursday Night:
Miami at Pittsburgh
Sunday
Atlanta at Carolina
Baltimore at Tampa Bay
Buffalo at New England
Cincinnati at Kansas City
Denver at St. Louis
New Orleans at Cleveland
N.Y. Jets at Tennessee
Philadelphia at Houston
Seattle at Detroit
Chicago at Green Bay
Dallas at Jacksonville
San Francisco at Arizona
Indianapolis at N.Y. Giants
Monday Night:
Minnesota at Washington 7:00 p.m.
San Diego at Oakland 10:15 p.m.